Welcome to official website of Silkroad hotel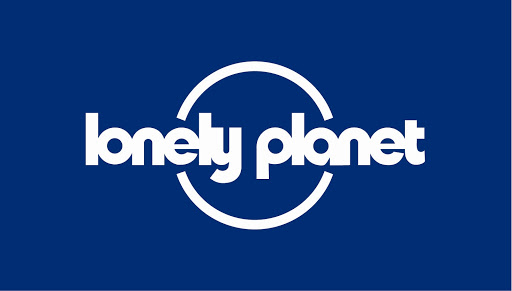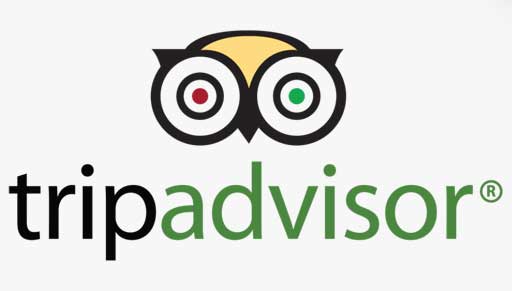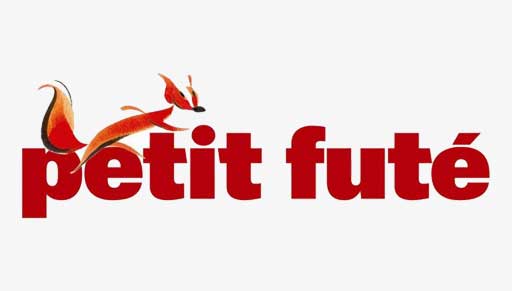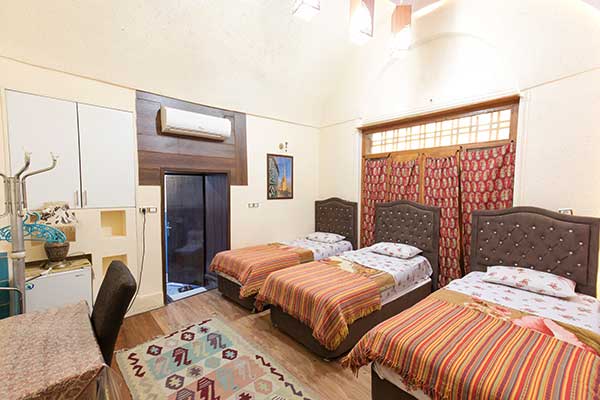 Rooms are dispatched around a lovely courtyard with a fountain and sitting beds. The perfect place to relax while enjoying a cup of tea or a fruit shake with Yazdi sweets.
Silk Road hotel offers 9 comfortable rooms : 1 single, 3 twins, 2 doubles and 3 triples. All of them include:
hammam (bathroom with hot shower) – western toilet – remote controlled central heating and air conditioning – fridge – free WiFi
Rooms are cleaned daily upon request.
Restaurant
Silk Road hotel serves food from 7.00 untill 23.00. Our traditional kitchen offers breakfast, lunch, dinner and snacks in between. We have meat and vegetarian dishes for every budget. Served in the dining area or Iranian style on carpet beds. As you prefer!
Take a look at our menu with Yazdi specialties, Iranian, Mediterranean, and Caribbean dishes.
We also have a traditional Coffee & Tea house, with several sorts of good coffee (not Nescafe!) and an extensive range of herbal and medicinal teas.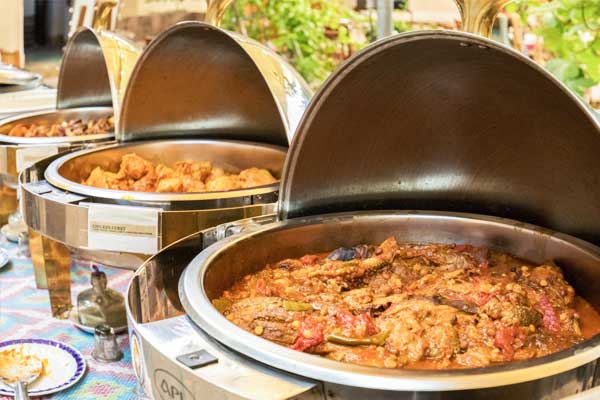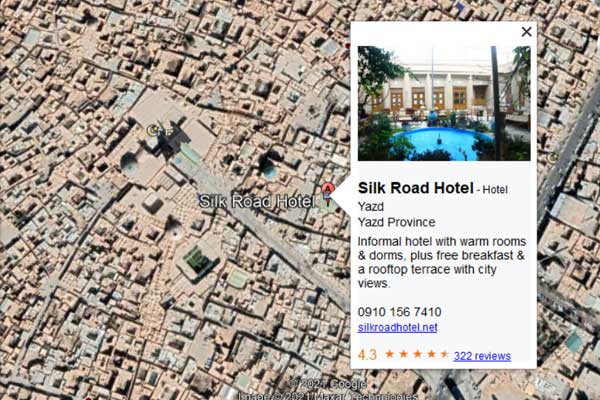 Silk Road Hotel is a beautifully restored traditional house located in the historical center of Yazd (Iran). Just 100 meters away from the 13th century Jameeh Mosque with its splendid minarets. On our rooftop you will be amazed by the panorama over the surrounding mud brick buildings and ancient windtowers.
Stepping out of the hotel you soon find yourself in a labyrinth of small alleys. Being the oldest, inhabited mudbrick city of the world Yazd is listed as Unesco world heritage. And the Silk Road Yazd is an excellent starting point to discover it yourself.
Customer Reviews
I spent some days at the Silk road hotel direct in the historical center of Yazd. It is a great place to start exploring this ancient city and his attractions. Employees are friendly, helpful and courteous. The facilitys are clean and there is a big yard in the middle of the hotel complex. Here you can enjoy different kind of teas for free and good local food. They offer vegetarian and non vegetarian dishes and everything I tried, was very tasty! It also is a cozy place to relaxe, talk to other travelers or get in contact with some locals. So, I can absolutely recommend this accomodation!
Date of stay:

January 2020
Trip type: Traveled solo
beautiful, cozy and traditional place to stay in Yazd. In the heart of the city, excellent location, very close to the attractions. very nice and helpful staff, delicious breakfast. the best hotel in Yazd
Date of stay:

October 2019
This has been by far the greatest experience I have ever had at a hotel. The staff are so caring and welcoming. They looked after me when I was sick, they literally fed me and kept checking on me every day. They treated me like family.
Their hospitality is superb and the food is just magnificent. The whole experience of being there is so surreal, it's like traveling back in time. The rooms are so spacious and traditionally decorated.